How to successfully build your playground
2019-02-19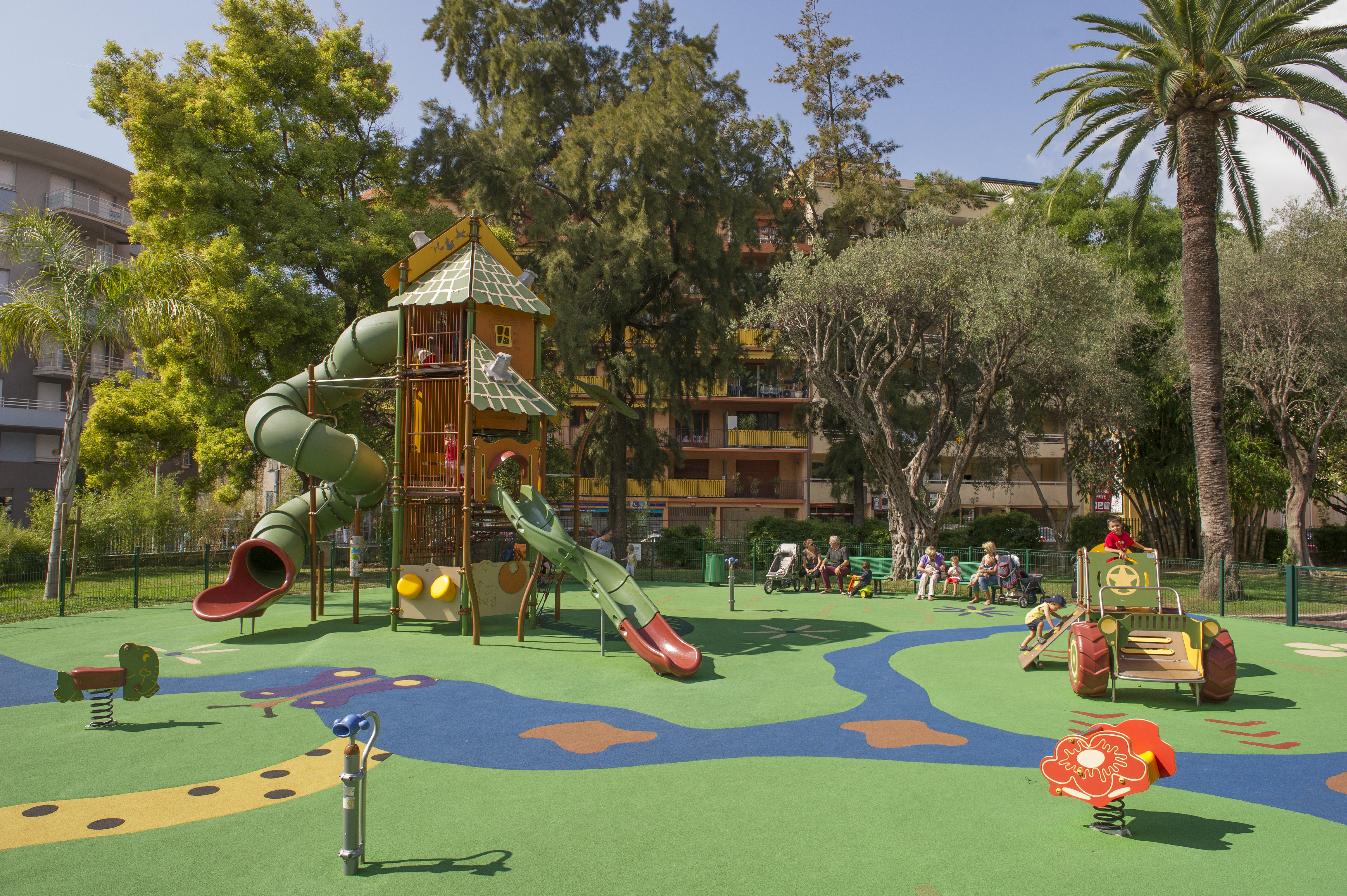 Building a playground for children and successfully renovating the space is fundamental. The role this future area will play in accommodating children in the best way possible is very important within a town.

Children do not see the world in the same way as adults: in order to design a suitable playground, we must put ourselves in their shoes.

Of course, this alone is not enough to successfully build a playground. The choice of site, play structures, fun equipment, colours, seating areas and landscaping are other aspects that must be considered for a successful build.

We'll give you all the keys to successfully build your playground.
What is the role of a play area?

Before considering the technical details of building a playground, it is essential to set out the role it plays in children's development.

As a basis for learning, the playground must provide the conditions necessary for children to:
The playground must be a developmental tool for children, but must also allow them to develop their motor and psycho-motor skills. The playground must be a source of discovery (new space, new feelings, new motions, new emotions, etc.), but also a source of learning (new feelings, new investigations, new problems to solve, new interactions, etc.).

We must therefore offer a playground suitable for all paces, all desires, all needs and all stages of development.

Therefore, creating and designing a playground is a question of meeting different needs and a variety of fun objectives.
What are the stages prior to designing a playground?

You must first choose the right site. The environment in which children will develop is very important. You must choose a site in which you will be able to build different play areas suitable for different age groups (little, medium, big, teenagers, etc.). Based on the age of the children, you can then choose the range (e.g.: Piccolo, Cameleo, Vertigo games, etc.).

You must then consider how to accommodate adults and access for disabled children and adults.

You are also strongly advised to consult the future users, to understand their needs and desires. Obviously, the aim is to design a playground that meets real needs.

You must set an overall budget to set out the limits of your development project: equipment, installation, safe surfacing, furniture (benches, bins, lighting, etc.), landscaping, etc.

Our Husson International advisors will guide you through all the steps to prepare your project, so that it is a success.
Choosing robust and durable play structures
The playground must be a land of discovery and experiences for the children. However, it must also address very specific and technical functional aspects. The materials selected must be robust, designed for sensitive areas and/or very busy areas.

Husson play equipment is designed to please children and enable them to develop in a space dedicated to them, without forgetting the technical elements of durability and robustness, which are essential for an optimised play area.

The ergonomics of the play structures must promote children's independence in their activities. This independence will be the grounds for learning and development.
A safe playground

Designing playgrounds for all is our speciality. Husson equipment is certainly robust and resistant in the long-term, but is also very safe. Playgrounds are a unique and stimulating environment for children: safety must be guaranteed.

Entrusting the design of a playground to a professional guarantees adherence with the safety standards in force. Husson equipment is among the safest on the international market.
Designing a playground that blends in perfectly with the landscape

Your playground must be harmonious and fit in perfectly with the landscape. For this, you must choose themes and associated colour schemes. You can use alternate themes to differentiate between play areas.

In the image for this article, several zones are visible, with 4 different themes:
the area for little ones (1 to 5 years): Piccolo-range games with the "Cartoon" theme,
the area for medium ones (4 to 10 years): Cameleo-range games with the "Forestic" theme,
the area for big ones (7 to 14 years): Vertigo-range games with the "Urban 1" theme,
the area for teenagers: a multisport area with the "Park" theme.

Each zone is differentiated by:
a range of games adapted for various ages,
a theme with harmonious colours.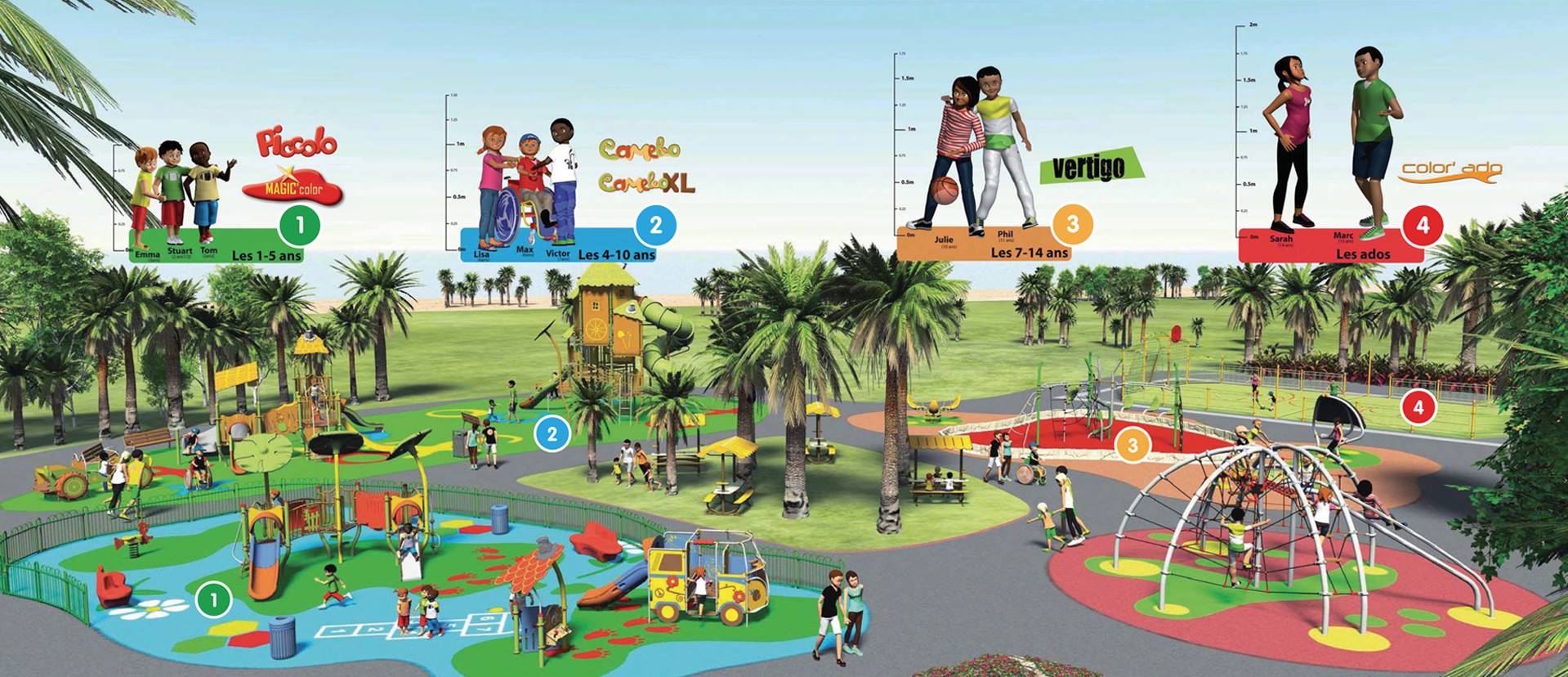 In this way, all the fun elements of the playground are suited to different age groups, while perfectly fitting in with the environment.

Each area may be supplemented by individual items from the Solo+ (spring riders, roundabouts, rope games, etc.) and Magic'color ranges.
Designing an inviting and accessible inter-generational space

In order for the playground to be a success, you must also think about the accompanying adults, and provide seating areas. Obviously, clean furniture will also be necessary to guarantee the comfort of parents and children.

You will also need to provide access routes and connections between the different zones, as well as fences, trees, etc.

Our teams will be able to offer you 3D plans so you can envision yourself in this future playground and optimise your renovation of the space in the best way possible.