What trends are we seeing in street furniture?
2019-03-21
The renovation of public spaces is becoming increasingly important.
Every square, every street, every park must help create a pleasant and friendly urban environment.
We should also add that there is now a real desire to reinvest in city centres, to pedestrianise more areas, to promote cycling, etc. All this requires undertaking comprehensive renovations of urban spaces based on a positive principle: friendliness.

Let's take a look at the new trends in street furniture.
Innovative designs

Street furniture plays a key role in shaping the image and opinion we have of a city or village.

Residents or visitors of a city enjoy being able to walk through spaces that are clean, inviting, and safe to travel through. Street furniture therefore plays a key role in meeting all these requirements.

In addition, users particularly enjoy high-quality street furniture: it must be robust and in good condition in order to convey a positive image.

This street furniture must be well distributed in cities and completely blend in with the environment. The design is therefore increasingly important to offer street furniture with harmonious lines that can be permanently integrated in the environment.
Changing use
The very
use
of
street furniture
is becoming increasingly
diverse
.
The primary function must always be taken into account. But increasingly,
street furniture
will have
additional functions
for users.
Let's look at the example of the
piece of furniture
typically used for
waiting
and resting: the
bench
.
Benches are obviously designed to allow users to take a break, rest, wait, watch, or simply meet other people.
But a
sports function
can also be added to this
sociable space
. With the practice of "street sports", benches can also be used to keep fit.
Jumping, stretching, balancing, building muscles, or relaxing,
public benches
can be fully
integrated
in a wide range of
sporting practices
.
It is therefore essential to
imagine
all the
uses
street furniture
will have, to
design street furniture
that is
suited
to the
needs
of all potential users.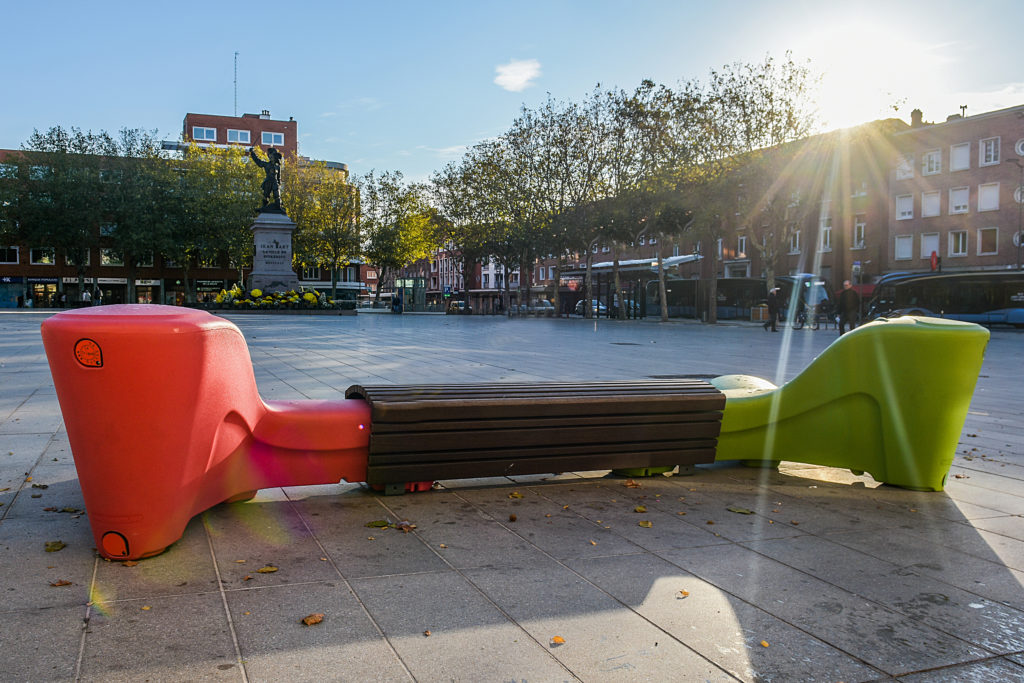 Adapted design
This encourages us to regularly
innovate
in the
creation
of our
products
. Our Trypode bench, or the
roto-moulded Swingbench
(Ellipson range), is a great example of this.
In addition to being robust and comfortable, these
benches
offer a
new approach
to more design-focused
street seating
,
suitable
for
a variety of uses
. This creates
street furniture
that is not only original, but piques citizens' curiosity. It even becomes a
new and colourful experience
.
The same goes for
flower decorations
and
cleanliness
.
Flower boxes
are designed to
help
improve
the living space, while perfectly
fitting in
with the
environment
. They must also be designed to
respect
plant
physiology
and facilitate the work of maintenance staff.
Bins
must be
elegant
,
robust
, and discretely and
harmoniously
blend in
with the
environment
, while withstanding heavy use and harsh weather conditions. They
meet
very
varied
functional
criteria
.
Protection
barriers
also follow these
design
and
development
trends
. They
protect
pedestrians
,
direct
traffic
,
secure
school
exits
, etc., and form an integral part of the
overall architecture
of a
city
. For example, Husson International offers models in a
variety of styles
and
shapes
, with a
move
towards more
contemporary
and
design-focused
products
.
In the future,
social connections
in cities and villages will be
built
around
street furniture
.
Street furniture
also greatly
contributes
to the
well-being
of
citizens
in a city.
Trends are changing
and
developing
to
offer
decision-makers
products
that are
more adapted
to the new usage
requirements
.